Prominent world leaders, including President Bola Tinubu, Lagos State Governor, Babajide Sanwo-Olu, representatives from the United Nations Development Programme (UNDP) and the United Nations Children's Fund (UNICEF), have commended the Chairman of United Bank for Africa (UBA), Tony Elumelu, for his contributions to youth development and entrepreneurship in Africa.
The leaders lauded Elumelu, who is the Founder of the Tony Elumelu Foundation (TEF), for his commitment to youth empowerment, advocacy for entrepreneurship, and dedication to the growth of Small and Medium Scale Enterprises (SMEs) across Africa.
The leaders commended the billionaire businessman at the TEF-UNDP Breakfast Roundtable meeting held on the sidelines of the ongoing 78th United Nations General Assembly (UNGA) in New York, United States.
This gathering also served as the platform for the launch of the Tony Elumelu Foundation (TEF) Impact Report titled, "The Tony Elumelu Foundation Entrepreneurship Programme: A Decade of Impact".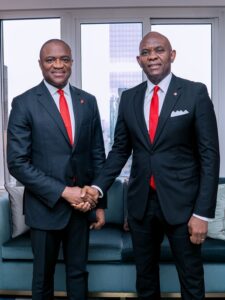 Speaking at the event, President Tinubu urged other Africans to follow in the footsteps of Elumelu by investing in youth empowerment.
READ ALSO: Elumelu to Indian investors: This is best time to invest in Nigeria
Tinubu, who was represented by the Minister of Industry, Trade and Investment, Doris Uzoka-Anite, stressed the importance of ensuring that the continent becomes self-reliant and no longer depends on foreign donors, highlighting Elumelu's role in driving investments, supporting SMEs, and promoting youth entrepreneurship and start-ups.
On his part, Sanwo-Olu, who lauded Elumelu's efforts in empowering and building the youth, noted that the efforts align perfectly with Lagos State's initiatives for economic empowerment and poverty reduction.
The UNDP's Assistant Secretary-General and Director of the Regional Bureau for Africa, Ahunna Eziakonwa, stressed the shared passion between UNDP and Elumelu in promoting human development and providing opportunities for individuals to shape their destinies.
Eziakonwa explained the reason behind UNDP's partnership with TEF, noting that Elumelu and a few others invested $100 million each in young people over the next decade.
She assured participants of UNDP's excitement about partnering with TEF and the intention to elevate this partnership to new heights, emphasizing their commitment to this cause.
Speaking at the event, Elumelu commended all partners, including UNICEF, UNDP, and UBA, acknowledging the bank's significant support.
He reminded the audience of the inception of TEF seed capital funding, emphasising its roots in his vision to effect change in Africa using African solutions.
"To see young entrepreneurs in Africa build sustainable businesses for themselves and generate viable green jobs, so that our young ones are not left behind in the inevitable green economy that the world will transition to," the UBA chairman added.
He, therefore, called for increased collaboration to prioritise young Africans, foster economic activities, and alleviate poverty across the continent.
Latest posts by Segun Ojo
(see all)