Subsistent farmers in Kano State have decried the soaring price of agro-inputs, particularly fertiliser and herbicides as the farmers commence this year's rainy season farming activities.
In an interview with The Star, some farmers said the prices of fertiliser and herbicides have skyrocketed to over 100% increase in some cases which would consequently affect their financial strength to afford the products necessary for better agricultural production.
The farmers lamented that the inflationary nature of the prices would have adverse effects on their farming capacity amid tough economic situation in Nigeria.
An observation of Bata Market where fertiliser and other agro-allied products are sold in Kano, revealed that Urea and NPK brands of fertiliser have recorded above 100% increase compared to their prices the previous season.
A 50kg of Urea and NPK fertiliser that sold at between N9,000 – N13,000 in the previous rainy season now cost between N19,000 – N25,000.
A 50kg of Indorama Urea fertiliser costs N22, 000 against N11,000 last year; Dangote Urea sells at N19,000 more than twofold of previous year's value of N9,000, while Waraka Urea was sold N16,000 in 2021 and now stands at N25,000 per 50kg bag.
For the NPK fertiliser, 15:15:15 Nagari and Golden Penny brands currently costs N25,000 each unlike last season's N12,000 and N13,000 respectively, while Kasco 20:10:10 brand is now N15,000 against N10,000 last year.
The story was the same for herbicides especially popular brands such as Vinash, Glycil, Paraforce, Dragon, and Bushfire among others.
In 2021, their prices did not exceed N1,800 at the extreme against current range of N2,500–N3,000 per litre.
A marketer, Alh. Mustapha Zakari, said the price rise became inevitable because they also supply the products at exorbitant prices.
"It is not our fault. We get the product at very expensive price and we have to get some profits for our effort. We are only middlemen. When we get it cheap, we sell cheap but when we get it expensive, we sell at high price too."
Like most Nigerian states, Kano has significant number of rural folks whose primary means of production and earning a living is agricultural. Both the rural and urban people are directly or indirectly connected to agriculture.
With the sharp change in prices of agricultural inputs in 2022, many farming communities have since been finding it difficult to afford fertiliser and herbicide which are very crucial in their agricultural activities that are being threatened by desert encroachment, deforestation, and climate change.
Consequently, many farmers are now seeking for alternative to fertiliser in organic manure through use of refuse, human excrement, cow pats, chicken droppings, goat and sheep dungs in their farms.
A subsistent farmer in Gano, Dawakin Kudu Local Government Area, Malam Musa Adamu, said: "Even the organic manure is now difficult to obtain.
"Last year by this time, I purchased 15 bags of both NPK and urea fertiliser. But this year, when I went to the market with similar amount of money, I returned home with only six bags."
Another farmer, Bala Sani, told The Star that farming is becoming disenchanted to him despite his enthusiasm for agriculture.
"I bought a litre of herbicide between N1,500 to 1,800 last year. It now costs between N2,500 to N3,000.
READ ALSO: Water scarcity hits Kano despite N12bn allocation in 2 years
"In fact, I reduce the size of my farm this year because everything costs more. It is better I farm small area that I can take care of it very well," he said.
Nasir Ali, whose farm is in Kura village, said he did not get adequate fertiliser last year, adding that rain would be sufficient both as water and fertiliser to grow his farm plants.
He rhetorically asked "I am battling with how to survive with my family where can I get money for fertiliser?"
Although he did not dismiss the efficacy of fertiliser in farming, his position seemed that of a hopeless and hapless farmer who only leans on his faith to the Supreme Being for bumper harvest
"Our land isn't as fertile as it used to be but there is nothing I can do. I would just accept whatever God gives me during the harvest.
"Even our refuse and animal waste aren't available; and you have to buy and pay for transporting it to your farm," he said.
There are many stories of subsistent farmers whose lives and their entire communities depend on age-old agricultural methods to produce food for the state's fast exploding population.
With virtually absence of support from all the tiers of governments to bonafide farmers, who are mostly rural based, food sufficiency or security would continue to be a tall dream.
According to the Federal Ministry of Agriculture and the Food and Agriculture Organisation (FAO), Nigeria requires around 7 million metric tons of fertiliser to adequately cater for the needs of its farmers.
According to the ministry, currently, Nigeria does not produce the required quantity and the Russian-Ukraine war has affected importation of both finished fertiliser and some raw materials for domestic plants which ultimately affect the price.
Pundits contended that Russia-Ukraine war portends adverse consequences on Nigeria's and Africa's agriculture as they heavily rely on Russia for nitrogen, phosphorus and potassium in their fertiliser plants which Euro-American sanctions make it inaccessible.
Although Africa's richest billionaire Aliko Dangote's 2.5$ billion fertiliser plant is estimated to produce 3million metric tons when completed, the price of the product may remain a daunting challenge for rural dwelling farmers living below poverty line to afford the important product necessary for modern agriculture.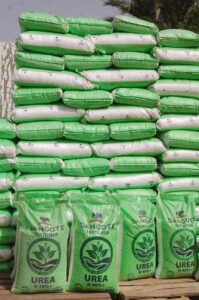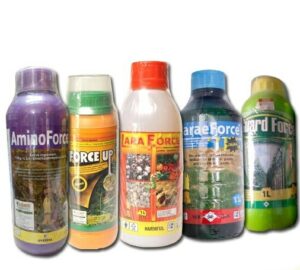 Latest posts by Aminu Adamu Naganye
(see all)