Kano metropolitan local government areas remain in perpetual acute dearth of water supply despite budgeting N12 billion for water supply in the last two years by the State Government, The Star reports.
In 2021 and 2022 budgetary allocations, Kano State Government earmarked N6bn each fiscal year for Kano State Ministry of Water Resources for its activities including tackling water shortage in the state.
However, residents of different communities in Dala, Fagge, Gwale, Kano Municipal, Nasarawa, Tarauni and Ungogo Local Government Areas continue to face acute water scarcity as Kano State Water Board could not meet up with the city's water demand amid excruciating heat waves that require much water to survive.
Many residential areas visited by The Star correspondent remain at the mercy of water vendors who are the main suppliers of water for household consumption and daily need in the ancient city.
A resident of Fagge, Kabiru Sani told The Star that water has become a scarce resource they use consciously to save themselves from the difficulty of sourcing it.
"We are really suffering from lack of water. We now use borehole and some good Samaritans that have borehole in their houses often connect it to wall outside their houses so that their neighbours can access," Sani said.
Unlike Kabiru's area, Abubakar Adam said their main source of water supply is water vendors who supply the residents.
Adam said: "We buy a 25-litre jerry-can at the rate of N50 on normal occasions but when things are terrible we buy same jerry-can for N100."
Jafar Musa said in their area, around Tal'udu, the locals sometimes get water at the mercy of good Samaritans who supply them from water tankers to ease off their suffering.
In Dorayi Karama area, Haruna Bala told The Star that water vendors are their "steady and reliable water suppliers".
He added that "tap water comes to us sometimes once in a month. The only well close to my house which we abandoned come to our rescue but it cannot provide sufficient water to the neighbourhood."
Other areas in the inner part of the commercial nerve centre of northern Nigeria such as Tal'udu, Mandawari, Fagge, Sabon Titi often get respite from water tankers that supply water to the areas by good spirited individuals and in some rare occasions by the government.
In Dan Agundi, it was gathered that the residents have resorted to fetching water to their houses from nearby mosques who made water provisions for worshippers for the purpose of performing ablution.
READ ALSO: EXCLUSIVE: Patients bemoan hike in Aminu Kano Teaching Hospital charges 
"I once bought a 20-jerry-can cart of water from the vendors at 2000 because there was no electricity and no much water vendors then," said Kabiru Idris of Kofar Nasarawa said.
Generally, the water scarcity cut across all nooks and crannies of Kano with a varying effect from one location to another.
Some water vendors who spoke to The Star said they are also affected by the fickle power supply which makes it difficult to have constant price of their supplies.
Rabiu Hussaini said he supplied a cart of 20-jerry-can for N1000, adding: "I sell one jerry-can N50 but when there is no light sometimes, I sell more than that up to 100 per one because where we buy the water from also increase the price.
"We used to pay N70-100 per cart with 18 or 20 jerry-cans but now we pay 120 – 200 to get water from the managers," he said.
Mohammed Sani, who survives on his water vending business, said they find things hard despite their crucial work of serving the need (water supply) of the residents.
He said: "We use our energy to do the work. We get water from borehole or tank owners before we supply it to the people. We hire the cart and we pay tax of N50 daily."
The vendors, however, complained that apart from the tax they pay, police and KAROTA officials charge them fines for any misdemeanour.
This is coming despite Kano State Government's yearly pronouncements and allocations to provide the state with adequate, portable drinking water.
Earlier during budget defence and presentation, the then Kano State Commissioner for Water Resources, Sadik Wali, said N6bn was earmarked for the ministry in 2022 in addition to loans secured from France and support from donors.
READ ALSO: Fire outbreaks kills 14, destroy N17m properties in Kano 
Sadik Wali told newsmen that Tamburawa and Challawa Water Treatment Plants would be rehabilitated.
"Our major focus is provision of portable water supply, especially in the face of health challenges recorded in the state and also rehabilitation of our existing infrastructure…"
The commissioner added: "Tamburawa Water Treatment Plant has a capacity of 120 million litres per day while Challawa Water Treatment Plant has a capacity of 90-120 litres per day."
He acknowledged that the ministry has been running the plants at 40–70 per cent capacity subject to availability or otherwise of energy through electricity or generating set.
The Kano State Water Board Managing Director, Dr Garba Kofar Wambai, had earlier apologised to the residents over the inability of the board to supply water to the people.
The Star could not get any response from the Kano State Ministry of Water Resources for the lingering water scarcity in the state as the Commissioner for Water Resources resigned his appointment in March to pursue his gubernatorial ambition.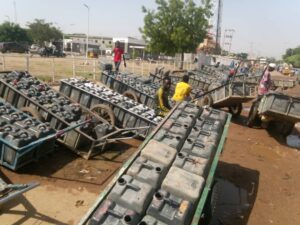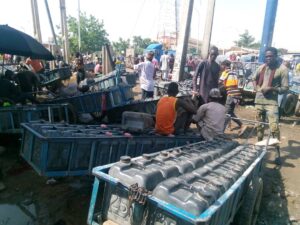 Latest posts by Aminu Adamu Naganye
(see all)