Tennis star, Roger Federer, was in tears on Friday night as he lost the final match of his professional career alongside his doubles partner, Rafael Nadal, at the Laver Cup in London, the United Kingdom.
The 20-time Grand Slam champion, who has been struggling with a knee problem for the last three years, last week announced that he will retire after the Laver Cup.
Federer teamed up with old rival Nadal for his last match in London but saw his dream finale ruined by Jack Sock and Frances Tiafoe, who won 4-6 7-6 (7-2) 11-9 to dampen spirits in front of a capacity crowd at the O2.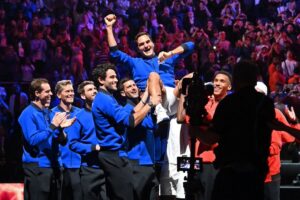 The tennis star enjoyed a lengthy hug with old adversary Nadal at the conclusion of the match before he was given one final standing ovation despite the clock being well beyond midnight.
READ ALSO: Roger Federer announces retirement from tennis
"We'll get through this somehow. Look, it has been a wonderful day. I told the guys I'm happy, I'm not sad. It feels great to be here and I enjoyed tying my shoes one more time.
"Everything was the last time. Funny enough with all the matches, being with the guys and having family and friends, I didn't feel the stress so much even if I felt something would go during the match. I am so glad I made it through and the match was great. I couldn't be happier.
"Of course playing with Rafa on the same team, having all the guys here, the legends, Rocket (Rod Laver), Stefan Edberg, thank you.
"It does feel like a celebration to me. I wanted to feel like this at the end and it is exactly what I hoped for so thank you.
"It has been a perfect journey and I would do it all over again," Federer said.
Roger Federer, who won his first Grand Slam title at Wimbledon in 2003, has not played a competitive match since losing to Hubert Hurkacz in the quarter-finals at Wimbledon last summer.
He subsequently announced he needed more surgery on his knee having previously undergone two operations in 2020 that kept him out for more than a year.
Latest posts by Segun Ojo
(see all)